International Men's Health Week 2022
International Men's Health Week (MHW) begins on the Monday before Father's Day and ends on Father's Day itself.  This year it will run from Monday 13th until Sunday 19th June. 
MHW is promoted worldwide and aims to:
Heighten awareness of preventable health problems for males of all ages.
Support men and boys to engage in healthier lifestyle choices / activities.
Encourage the early detection and treatment of health difficulties in males.
Our call to action this year is "MISSION is POSSIBLE"
Listen to Paul O'Kane from Belfast Men's Health Group speaking to Brídín Quinn from NVTV about the the week at: https://www.nvtv.co.uk/shows/the-round-up-17th-june-2022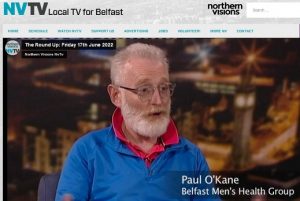 To celebrate this year the Belfast Trust Health Improvement team and the Belfast Men's Health Group have organised number of events. 
To book a place or for more information please see the list below.
Anyone interested in attending the Kickass Bootcamp they run Tuesday & Thursday evenings @ 6.15pm, and Saturday mornings @ 10am. 
Staff/participants can sign up using this link – 
https://www.fitnessbelfast.com/shop/outdoor-kickass-bootcamp-drop-in-session-pass
if they use the discount code MENSHEALTHWEEK at checkout, it will be discounted 100% – so a free session.
Organisation

 

Type of session

 

Date and time

Location

 

 

 

Belfast Men's health Group

 

 Podcast – Masculinity

 Monday 13th June

 

Website

Podcasts (belfastmenshealthgroup.org)

 

 

Ananda Yoga

 

 

Beginners session (Men)

 

 

Tuesday 14th June at 1pm – 2.15pm

 

Antrim Road Belfast

For more information or to book e-mail paul.okane@belfasttrust.hscni.net

Here4U

 

Football

Tuesday 14th June at 5pm – 6pm

Grosvenor Road Football pitch Belfast

For more information or to book e-mail tony.mcdonagh@belfasttrust.hscni.net

 

Kadampa Meditation Centre Belfast

 

 

Managing stress in turbulent times

 

Thursday 16th June at 5.30pm – 6.30pm

 

Kadampa Meditation Centre Belfast

54 Peter's Hill. BT13 1BA

For more information or to book e-mail paul.okane@belfasttrust.hscni.net

 

Belfast Men's Health Group + Health improvement team

 

 Parkrun

 

 

Saturday 18th June at 9.30am

 

Antrim – Parkrun free man manual

 

Waterworks – Parkrun free man manual

 

Cavehill Walking Club

 

 Walk

 

Sunday 19th June at 11am

 

Upper Cavehill Road

For more information or to book e-mail

 

Fitness Belfast

 

 

 Kickass Bootcamp

 

To be arranged with individual.

 

Belfast Gym/outdoor location